First run with the garmin!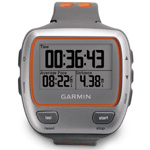 Garmin Forerunner 310TX 
And proceed to delete the data when trying to transfer. #technologyfail 
Goal: 4m – warm up, 5k , cool down …..I hit something around 4 miles in 45+ minutes
Path: upper & lower reservoir
Intensity: kept first 1/2 mile light but felt weighed down from the start. Went to pick up the pace for 5k but was a rough run – had to slow to walk 2.5-3. This one gets chalked up to stupid fueling / everything impacts a run. 
I was 166 @ 3:37p … cool, a little high but usual for the afternoon – leave it alone. Only I didn't…I had dried fruit and plenty of it. This was a reminder that just because it's healthy doesn't mean it'll work for me, oh and moderation. I also had an equal amount (read: a lot) of almonds because I wanted a snack. Fast forward to 6p, getting ready for my run (should have met to run with TFK since I was free) and my bloodsugar is over 300. Sigh. Had to do insulin but can only do the ratio with starch carbs vs. the natural sugar of fruit. So I had my standard PB & toast. Went into this run feeling a little nutty. Came out at 124 (perfect)! But I was feeling those fueling decisions. This is a 24/7 prepping/planning/calculating – every decision counts. One good one : I should stop buying dried fruit, stick with the fresh. 
Injuries: left knee felt achy all day randomly. Fine during run but old pain going up stairs afterwards….realized later on it was hinting at some IT Band issues.